Overview:
Distance: approx 3000 miles
Time: 5-8 Days
This ride is a multi-day extension of the Iron-Butt BBQ Run, that covers the lower mid-west of Historic Route-66.  It really is the long way home from Kansas City, MO:  Continuing east to south St Louis in order to travel westward through Missouri, south east Kansas, Oklahoma, north Texas, New Mexico, and most of Arizona (Flagstaff).  The north across the Navajo Reservation into Utah.   Last took this trip in  July 2015, in 5 days.
Route:

Leg 2 (267 miles): Arthur Bryant's to Ted Drewes' Custard stand

Starting at Arthur Bryant's Barbeque (1727 Brooklyn Ave, Kansas City, MO 64127)
Take Brooklyn Ave to I-70 East
Follow I-70 East to Columbia (about 2 Hours)… If you did he all nighter to Arthur Bryant's, you may want to get a hotel in Columbia and have Mid-America Harley change out your oil.
Continue on I-70 E to Exit 128A (Jefferson City)
Follow US-54 W/US-63 S to US-50 E
US-50 E to I-44 E
Exit 284A (Jamieson Ave)
Jamieson Ave to Chippewa St (Old RT 66)
Ted Drewes' Frozen Custard stand is at 6726 Chippewa St, St Louis, MO 63109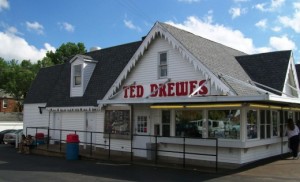 Leg 3 (120 Miles): Drewes' to Devils Elbow (Exit 169 I-44)
Note: Essentially RT 66 was replaced with I-44; get yourself a good RT 66 guide and map
Follow I-44 taking the parts of Old Rt 66 that interest you. Stops to be sure and see:

Meramec Caverns (Stanton)
Bourbon, MO – Water Tower
Carr Phillips 66 Station in Cuba, MO
Fanning 66 Outpost World's (largest rocking chair; if you're into kitsch)
Leg 4 (231 miles): Devils Elbow to Joplin
Exit I-44 at Exit 169;
Follow old RT 66 through Hooker Cut
Continue on RT 66 (the Tear Drop Road Section) to the Elbow Inn Bar & BBQ
Cross the bridge (nest to the Elbow Inn)
Continue on Old Rt 66 / I-44 through Lebanon, Springfield.
Exit I-44 at Exit 57; taking Route 66 through Carthage to Joplin.
If you stayed the night in Columbia, you will need a long summer day to get to Joplin.
Don't go father than Joplin as there are not too many hotels in the KS/OK Leg of the trip.
Leg 5 (490 miles): Kansas / Oklahoma / Amarillo by dark:

Leave Joplin on West 7th Street (RT 66) continuing on RT 66 across the KS state line
Stop at the Stateline Bar

Ride on to Galena, KS ..Do not miss "Tow-Mater", the inspiration for Mater, the tow truck in the Disney/Pixar movie Cars.

Continue on to the Rainbow Bridge in Riverton, KS
Ride on to the Route 66 Visitors' Center in Baxter Springs

Follow RT 66 into Oklahoma and on to Miami, OK … You simply must stop at the Vintage Motorcycle Museum (128 S. Main, Miami, OK 74354)

After the Vintage Motorcycle Museum, I like to ride like hell to get to Amarillo by dark ( mainly stay on I-44 and I-40).
There are some Rt 66 things you might want to see, but for me the only items are:

Stop for a drink at Pops in Arcadia, OK

The leaning water tower (Britten Water Tower) at Groom TX is worth a picture from the highway
Stop for a great steak at the Big Texan Steak Ranch (7701 I-40 East, Amarillo, Texas)
I also like spend the night in Amarillo
On your way out of Amarillo on I-40 you may want to stop at Cadillac Ranch (you'll go by it and exit just west of it, as you can only access the site from I-40 East … also lots of mud)

… IMHO skip it in favor of "Carhenge" in Nebraska
Leg 6 (496 miles): Amarillo through Sante Fe to Gallup

Take I-40 West across TX, IMHO, not much to see …Take a trip to Austin and San Antonio through Big Bend if you want to see some Texas.
Continue on I-40 to Tucumcari, NM Plan on an extended stop in Tucumcari, as it has all the kitsch you could want for a RT 66 trip.
Keep riding on West on I-40; unless you want to take the old old RT 66 through Santa Fe (I would as it is the scenic route, but it is the very long way around).
Use exit 256 (To Las Vegas, NM)
Take US-84 North to I-25 at I-25 exit 319
Stay on I-25 (unless your RT 66 guidebook has convinced you to stop and see something) through Sante Fe and on to Albuquerque
Exit I-25 in Albuquerque on to I-40 West. (Warning: Bugs, don't take a wrong turn in Albuquerque)
Take I-40 West to Grants (they have a great bike week in Grants)
Continue on I-40 to Gallup, NM
(if it is getting late, you may want to spend the night in Gallup; I generally stay in Winslow, AZ, but Winslow is another 128 miles )
Leg 7 (182 miles): Gallup through Winslow and Flagstaff

Continue west on I-40; watch your gas.
Some stops to consider:

Lupton, great south west tourist trap stores
Petrified Forest National Park (real Road Runner/Coyote scenery)
Stop in Holbrook to see the Wigwam Motel (need reservation way in advance to stay here)

Jackrabbit Trading Post, great south west tourist trap store
Winslow (there is corner here) and the La Posada Hotel– 303 E 2nd St, Winslow, AZ 86047 (pricey…this is where I like to stay, but the Quality Inn has also been good to me).

Meteor Crater, about six miles south of I-40 (lots of signs)

Exit I-40 at Flagstaff
Leg 8: Flagstaff to Big Rock Candy Mountain (great scenery, not much gas)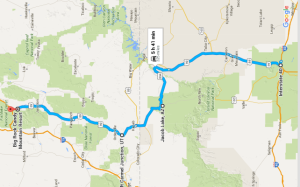 From Flagstaff take US-89 North through the Navajo Reservation to Bitter Springs
Take US-89A through Jacob Lake to Fredonia/Kanab
Rejoin US-89 North at Kanab
Continue North on US-89 to Mt Carmel Junction (stop for Gas and some HO-made Pie, just do it!)

Follow US-US-89 North to Big Rock Candy Mountain.

Leg 9 (185 to 215 miles): Big Rock Candy Mountain to Salt Lake (blast on home)
Continue on US-89 to I-70. Then you have a choice:

Take I-70 West to Cove Fort and I-15 North to Salt Lake (215 miles)
or
Take I-70 East to Salina, the US-89 North to , then UT-28 North to Nephi, and join I-15 North to Salt Lake (185 miles).